GP & J BAKER
The Cosmopolitan Collection
---
A new departure for GP & J Baker, the Cosmopolitan Collection adds a playful note with the new 'Menagerie Velvet' print captured below. However, it doesn't fail to deliver on versatility with a vast selection of velvets, weaves, sheers and embroideries. Nor does it stray too far from the beautiful floral designs that GP & J Baker is so well known for.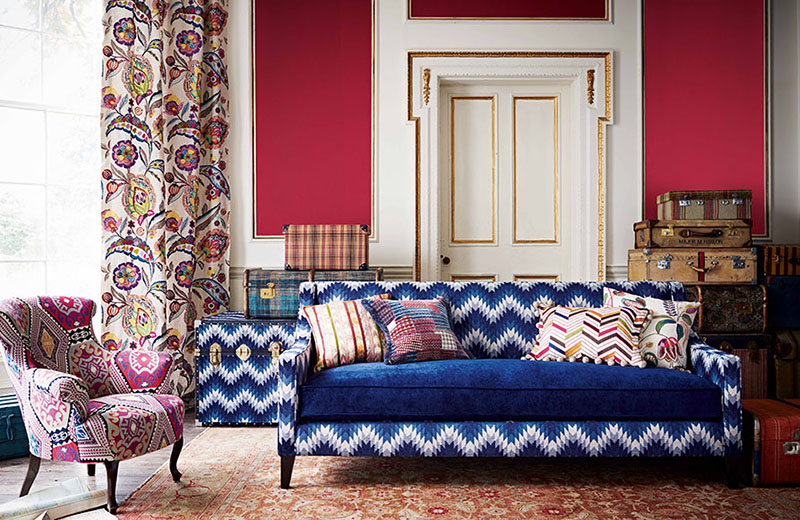 BOHEMIAN TRAVELS COLLECTION

A fantastic follow up to the award winning 'Bohemian Romance' Collection, 'Bohemian Travels' is a tribute to the discerning traveler/collector, this anthology brings together exciting inspiration designs, unique exotic textures and a palette of glorious colour.
KRAVET
Jonathan Adler Collection
---
Ceramicist, designer and author Jonathan Adler is committed to bringing style, craft and joy into life. 'Charade', is his second collection for Kravet and Jonathan says: "This Collection captures everything I want my work to be: an intrepid world of colourful, joyful and eccentric glamour." These designs fulfill his wish with punchy, bold prints and a vibrant palette reflecting Jonathan's spirit of irreverent luxury.
A mille-fleurs tapestry was probably the inspiration for the design below, 'Meadow Fruit', although here, grapes, pomegranates, blackberries, cherries, and acorns are found ...




Beautiful, bold tulips and delicate Jasmine flowers peep through sinuous serpentine leaves in this exquisite example of an Arts and Crafts design. Considered to be a fresh ...




This design of exotic flowers and fruits displays the distinctive later style of C.F.A. Voysey, one of the most original and influential of the Arts and Crafts designers ...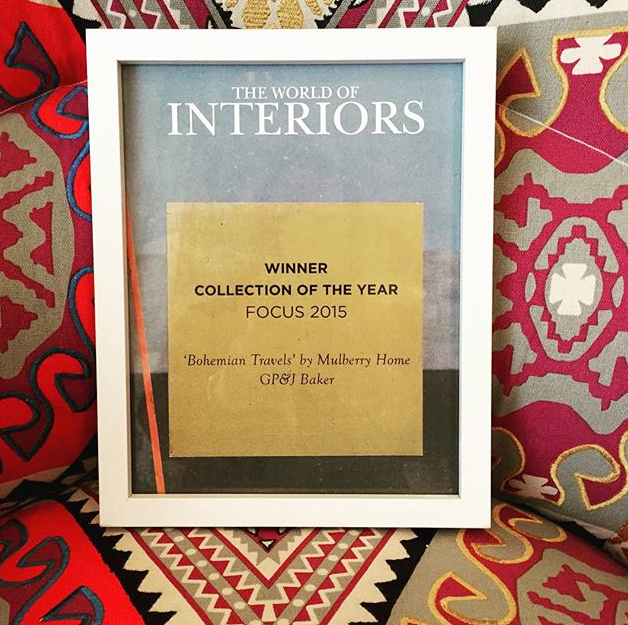 MULBERRY HOME AWARD WINNERS!
We are absolutely delighted to receive another award for Mulberry Home 'Bohemian Travels' with 'Collection of the Year' from The World of Interiors Magazine!!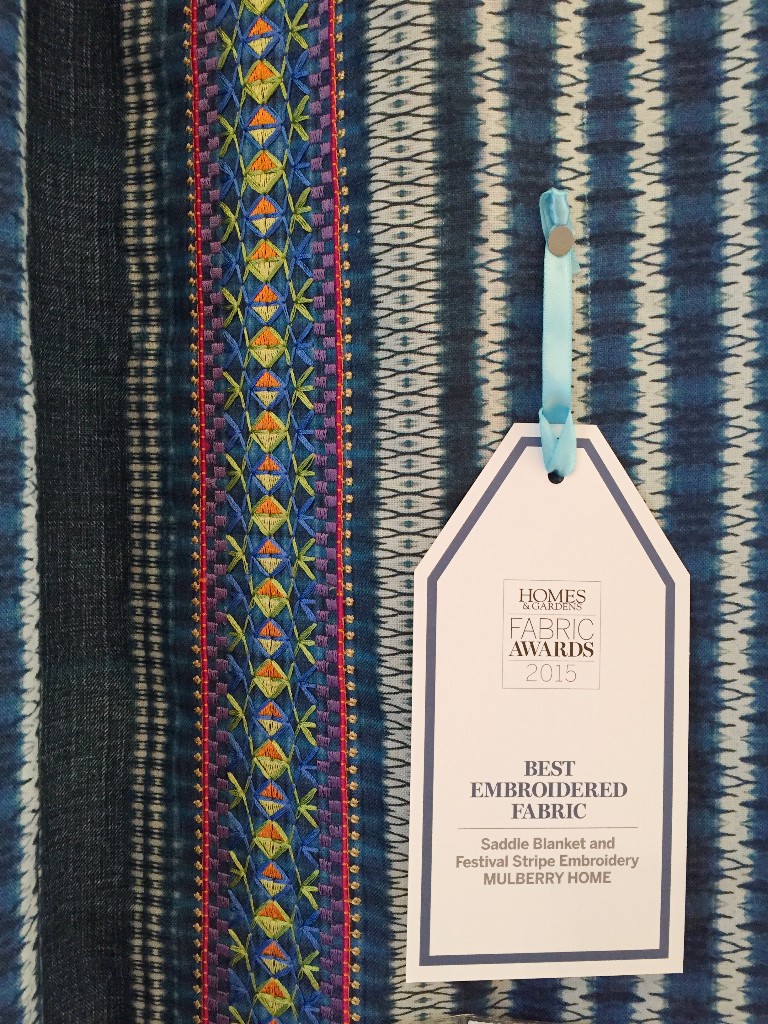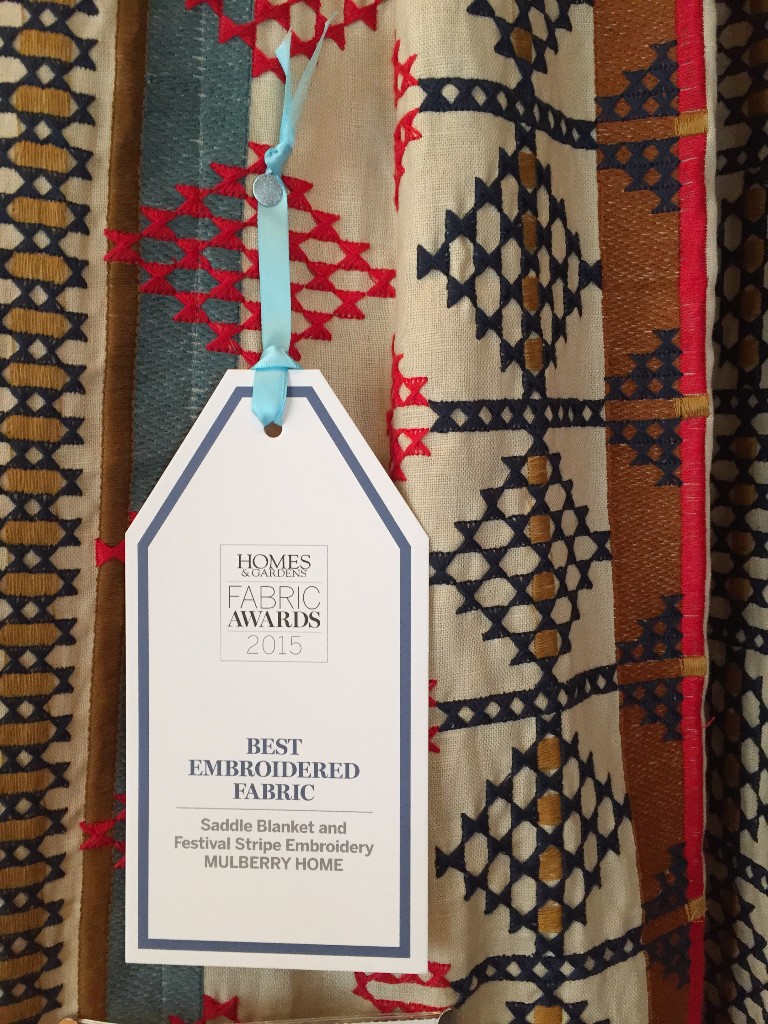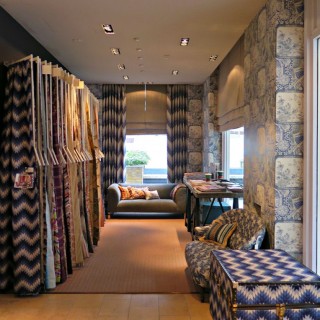 Our beautiful, state of the art showroom in Design Centre East, Chelsea Harbour is an all-embracing showcase for GP & J Baker, Mulberry Home, Brunschwig & Fils, Baker Lifestyle, Lee Jofa and Threads. We have renovated the space using a stunning mixture of this season's fabrics and wall coverings ready for Focus 2015!